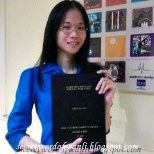 Hell yea, my hardwork on dissertation has done. Wooot!~ Also thanks to my close friend; Amjad and Mohand who they helped me a lot during the struggling moment. Well, I'm officially graduated and waiting for my convocation to come. Time flies fast. Just a blink of my eye, it's the end of my master studies. To be honest, I'm blessed to have a great and close international friends during the studies and of course still keeping in touch.
Ups and downs, fake and real, irresponsible and responsible, use and cooperate coursemates - The first class is Organisational Learning taught by Dr.Ken. I mentioned in my previous
post
. I met no one and sit quietly at the second row. Dr.Ken assigned an assignment in the second class. So Kamran, Sheila came approached me asked if they could join my group (Edi and me). It's my pleasure that they can joined us. During the first semester, I had an argument, a crazy one and so drama. I'm glad the drama didn't continue in the second semester and so on. There's where I met Sadaf, Maraneh, Ali, Reza Samsam, Nastaran, Reza Amiri, and Tina. And I had to learn Persian in order to communicate with them. As time pass, they invited me to their party, New Year and celebrations. It really do open my eyes about their culture. The following semester, I started to know Amjad, Kaveh, Safoura, Madhavan, Moli, Jamal, Arash, Kamyar, Lina, Azri, Maziyar and many more. These people are friendly and helpful.
Till Ms.Azira assigned us a charity project. Well, from here I began to learn who is fake and who is real friends, irresponsible and responsible, use and cooperate coursemates. It was a headache and stressful assignment to conduct a charity event. Some of them didn't know what is charity or not even expose to charity event before. From there, I knew who is real and fake friends. It is not easy to lead 34students and assigned them task to do because some of them are not co-operate to do so. And most of them turn against me, emails, phone calls ringing none stop. But I glad I did manage to persuade them, guide them to do their task. I'm glad the charity event was ended good.
The charity event was about feeding the homeless people. Majority are old homeless peoples and few are young homeless peoples. Below of the lists are the charity assignment: